Symbols of You takes you on a personal journey into the world of Ancient Wisdom and its symbols. With fun exercises and charts you'll explore how to use symbols to help create a more positive, intuitive and connected life.

Linda Mackenzie, a multi-book author, radio host, world renowned psychic and hypnotherapist founded HealthyLife.net Radio in 2002 which reaches millions of worldwide listeners a month. She has appeared on hundreds of radio shows, almost all network/cable TV channels and in several award winning documentaries.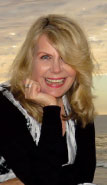 Benefits
Discover your symbols and what they mean
Expand your intuition, mindfulness and consciousness
Get informed insight into life's challenges
Learn about family, friends and associates
Explore the knowledge of Ancient Wisdom

Features
42 Ancient Wisdom topics
A timeless facts reference book
22 illustrations; 83 charts; 61 activities
12 fill-in sheets to record your symbols
DISTRIBUTION
Trade Paper: Ingram, Amazon, Barnes & Noble, Target, Draft2Digital, Baker & Taylor, New Leaf and fine bookstores worldwide.
Ebook: Kindle, Nook, Apple


ADVERTISING
- Social Media
- Influencer Sites and Blogs
- TV, Radio and Print Ads
- Retail/Trade Journals

PUBLICITY
- 40 targeted Radio/TV Interviews
- National Press Release
- Social media/Influencers
- National Media Campaign
- Nationwide Seminars
- Nationwide Book Tour/Signings

PROMOTION
- Linda Mackenzie Show mentions
- Giveaways at Events
- Monthly Newsletters
- Kindle/Bookstore Promotions